7 Event Technology Trends you need to know in 2020
December 2, 2019
|
by MTM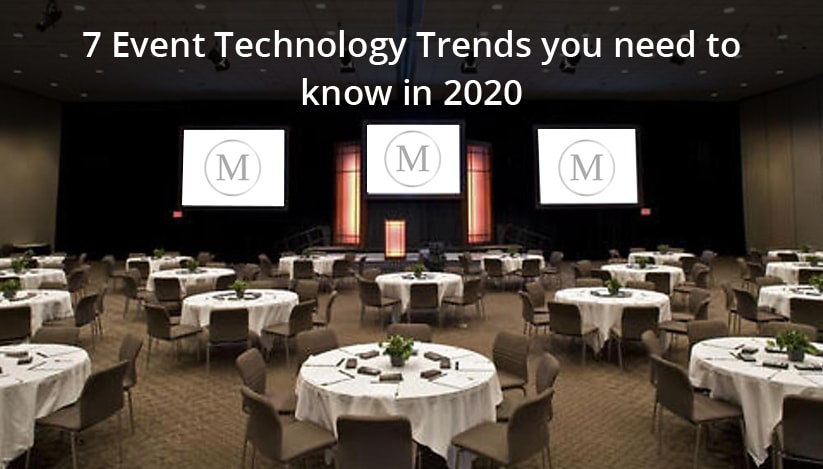 Event technology refers to the application of a certain tech, whether a hardware or a software, during a live event. Event Services Singapore are usually employing such phenomena to make their product launches stand out. Below we have listed some of the trending technological development within the event management industry.
Let's take a look at some major Event technology trends you need to know in 2020.
1. Voice Recognition: In order to aptly promote your upcoming event, a number of age-old terminologies are still being run into the ground. However, it's imperative that 'Voice Search' gets recognized as a major event marketing tool going forward.
More than 20% of total searches online were voice searches, with the percentage likely to grow significantly. As a result, your event marketing checklist should definitely include Voice Search Optimization.
2. Facial Recognition: Facial recognition as an event technology has been evidently gaining more and more traction amongst marketers each year. In fact, a number of music events, concerts, and festivals are making use of the technology for safety and entertainment purposes.
This technology can prove to be a real game-changer in crowd management, event security, individual tracking, and other aspects. Think of this tech as an extension of the biometric authentication procedure.
3. VR & AR: Virtual Reality and Augmented/Artifical Reality are both really exciting prospects for future events. While the phenomena are still in their infancy years, the opportunities are already quite apparent.
Audience-experience and engagement break through the roof in events that employ these mechanisms. VR/AR devices are also extremely suited to promoting the event, especially for product launches, conferences, etc.
The AR tech adds virtual elements to a live environment while the VR machinery will transfer your attendees to a new dimension/surrounding altogether.
4. Drones: Drones are almost always referred to as "cameras that fly" when they can be used for a lot more during a tech event. All major Sporting events use drones to capture stunning shots and make the crowd go "wow".
Apart from that, Drones are also used for crowd surveillance and security concerns. Sometimes coupled with build-in Facila Recognition, drones are gaining a rapid following amongst event management in Singapore, and worldwide.
5. Mobile Apps for events: So many aspects of conventional event planning have ceased to exist for good, courtesy of the emergence of mobile apps. From booking tickets to entry pass, every element of a successful event revolves around promoting the use of mobile applications.
You can schedule and get notified with event development as well. Once again, a number of companies are now integrating the AI and AR features to their pre-existing app thereby making event management a hassle-free ordeal.
6. Virtual Events: A common challenge for any small to a mid-scale company is handling the transportation and entertainment costs of organizing an event outdoor. Plus you run the risk of a situation where a number of guests simply can't make it to the function.
This is why Virtual Events are becoming increasingly popular each year. By simply carrying out proceedings over the social media platforms (such as Facebook Live), you no longer have to be physically present at the venue. Event costs are basically non-existent.
7. A "wearable" event technology: Sometimes, you can never be too safe, especially at a major event. As a result, some wearables reflect a significant "level up" during event interaction. By making good use of digital bracelets, iBeacon, and digital wristbands, actionable triggering will become a casual practice in the future of events.
Conclusion: MTM Events is the leading Event Organisers Singapore, and cover the full spectrum of party/event services, namely –
CORPORATE EXHIBITIONS,
CONFERENCES,
ROADSHOWS,
TEAM BUILDING
GALA DINNERS,
AWARDS CELEBRATIONS
PRODUCT LAUNCHES
THEME DINNER FUNCTIONS
LIVE CONCERTS
PRIVATE FUNCTIONS/PARTIES
WEDDINGS
And so much more…