Score Style Points For Your Next Dinner and Dance Event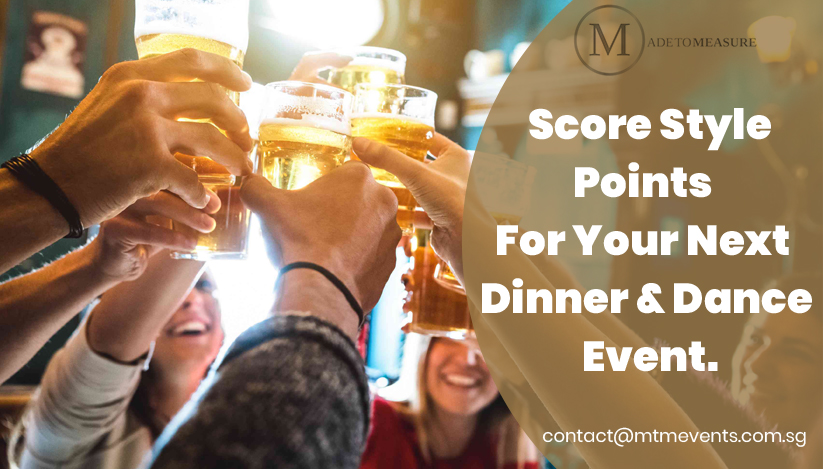 Being a party host is a pretty thankless job. A Dinner and Dance Singapore are especially one of the most preferred means of celebrating any major festival or a new year. But then the whole process seems quite straightforward on the surface, which couldn't be further from the truth.
Although anyone can actually host a dinner and dinner party (including your pet dog Charlie) what about a dazzling event?
If you actually want your dinner and dance event to be considered a smash hit, here are 7 significant tips you need to remember.
Know your audience: You as the party host have the responsibility to know your guests as in their personalities, occupation and likes or dislikes and have them treated accordingly.
The last thing you want is for a middle-aged Paper company worker seated next to a youngster who works as a software developer in an IT firm. That way you reward them for attending your dinner party with awkward silence and a forced smile every 37 seconds.
The best thing to do here is to make a list of the guests and people accompanying them, provide acquittance to solitarily arriving guests and that should let you start the proceedings with an exciting response.
Serve a Signature Cocktail: The first thing your guests usually look for at a dance party is the drink that you would be serving.
Now you don't want your guests to get wasted and smashed out of their senses on the occasion, so rather offer them Red wine before serving dinner and then some other signature cocktail ( a lemon Mojito or something) when it's time to turn the party up a few notches. A dance party depends on whether people actually are able to dance and aren't passed out on couches.
Entertainment: It is usually a recipe for disaster if no thought is spared for things other than 'Dinner' and 'Dance' at a party. Your guest will run out of enthusiasm very quickly if your event doesn't offer any means of entertainment.
Fortunately, there are millions of games and activities you can introduce in the middle of everything to keep everyone engaged. Some legit entertainment choices are things like-
Who Am I
Bowling
charades
Karaoke
Treasure hunt
Poetry
Mashup reading and more
With a little more budget, you can arrange to have a local band, comedian or a magician booked for the event.
You are what you eat: Choosing what food to serve your guests is a thing you invest the majority of your thought process into. Guess what, at least a minority of your guest base is going to label your cuisines as 'far too fancy' or 'not fancy enough'.
So what you can rather do is not give too much unnecessary thought into it. 'Beauty in Simplicity' should be the mantra here, and with that in mind, you can offer canapés, fish fingers, french fries, etc as your pre-event menu and later offer light cuisine without too much pungency. Sure, go for exotic tasting items but just don't think of overdoing it, it just leaves more room for someone feeling underwhelmed.
The theme of the Team: A party is nothing without a visual to behold. Theme based events are gaining traction every day and a whole bunch of theme ideas exists today that make you party, well Dazzling. You can add your imagination into choosing a theme while some suggestions are also mentioned here-
Masquerade
Hollywood (Harry Potter, Star Wars, POTC, Avengers, etc)
Victorian Era
Futuristic world
Alien party
Wild Wild West
Christmas and more
Hire an Emcee: don't just hire an emcee, invite an actually good one. Your Master of Ceremony will serve the purpose of a glue that binds your audience together.
The Professionals in this regard have oozing charisma, unmatched enthusiasm, and out of the box thinking. They induce humor with their witty lines and are on the spot thinkers. A great Emcee will make your party that much more dazzling by changing the whole scene from an event to a rock concert-like atmosphere.
A Perfect Goodbye: You don't necessarily have to end the night with a pyrotechnics or firecracker exhibitions to make it memorable (although it's definitely kinda cool).
You can still be a perfect host by offering something like a box of chocolates to all the guests, and then later following it up with a photo booth session (although it can also be carried out in the beginning, but have it in the end when people are a little woozy). It serves as a perfect goodbye to a perfect event that your guests will have engraved for years in their memory.
Are you in need of an able party planner to assist you with Event Organiser Singapore?
We at MTMEvents retain a core of expert party planning personnel who offer personal attention to every aspect of your event. Our extensive range of services incorporate all types of events and parties including-
CORPORATE EXHIBITIONS
CONFERENCES
ROADSHOWS
TEAM BUILDING
GALA DINNERS
AWARDS CELEBRATION
PRODUCT LAUNCHES
THEME DINNER FUNCTIONS
LIVE CONCERTS
PRIVATE FUNCTIONS/PARTIES
WEDDINGS