How Event Marketing Automation is Changing The Sector as We Know it?
February 24, 2020
|
by MTM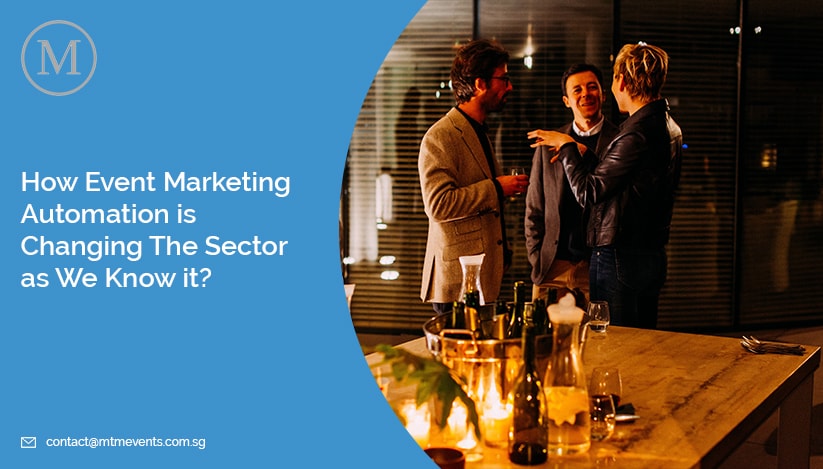 Event marketing is an essential tool towards making sure you extract the maximum out of your corporate events  Singapore. After all, how is your target audience going to know about the event in the first place, and even if they are, how will you, as a company person make them see the benefits of actually showing up to the venue?
Event marketing in itself is a very crucial tactic to make sure that there are more people at your product launch than just the company personnel and the catering staff! However, when you add the word "automation" to it, you know that's when the whole game is changed. So with that said, in this article, we're going to take a deeper look at this phenomenon of "event marketing automation" and how is it taking the marketing community by storm in recent times.
# What is Event Marketing Automation?
Just imagine, as an unfortunate soul, you've been tasked with making sure that a maximum number of potential customers are getting the invitations to the company's product launch, that too within the budget. Of course, going out of your way and printing thousands of colorful pamphlets is out of the picture. So you put all your eggs in the basket of email marketing, and social media advertisements. But then you realize it's not at all easy for you, on your own, to handle this aspect of online event marketing. And this is where "event marketing automation" is there to save the day.
So to put it simply, "Event marketing Automation" refers to the process of using automatic online tools that will handle the purpose of client engagement on your behalf. These bots/applications/tools can essentially do it all, from sending invites, sending reminders to invites, phone calls, SMSs, Facebook interactions, customer chatbot engagement, etc
With the help of these automated marketing tools, the target customer is bound to see your event advertisement, no matter on which platform they spend their time. As a result, a sizeable chunk of responsibility os lifted oof your shoulders, and now you can solely focus on actually marketing the product perfectly in front of the audience on the day of the event.
# (EMA); An Essential Tool In 2020.
The year 2020 is going to be completely different from the norm when it comes to how you and your customers view a corporate event. A fully-personalized experience is demanded by all your users today, which makes managing the day-to-day aspects of such an occasion a rather difficult task. This is where these automated tools act as the auto-pilot to all your marketing campaigns and strategies.
With the modern advancements in technology, an ever-increasing number of automated marketing tools are offered to you on various online platforms, some of which are absolutely free of cost. More than 90% of event marketers believe that the emergence of modern tech (such as EMA, VR/AR technology, drones, facial recognition, etc) have made it much more easy for them to handle an handle, as well as ensure the overall success of such an occasion.
# How to Use Event Marketing Automation?
A number of EMA software are available online. So the steps to undertake might look something like this-
Set up the pre-scheduled email invite as well as the invitation landing page that you'll direct people to. Both lead to an auto-produced registration form for the guests.
Set up 'suggestions to enroll' that send by means of email and SMS. These can be 'activated' to send dependent on basic standards. For instance, if any contact who navigates to the greeting page doesn't enroll/register, and any individual who opened the welcome yet didn't enlist, can naturally get the update.
Set up 'suggestions to take care of' every enlisted contact. This can be set up ahead of time and planned to auto-send to all registrants several days prior to your company's special event.
On the day updates sent by means of SMS, with significant data like last-minute changes. This again can be set up ahead of time and will auto-send to registrants on the day of the event.
'Much obliged to you for coming' messages, with connections to critical/negative reviews, and different treats can be set up ahead of time as well.
Conclusion:
What you can always do when on a budget is to limit the amount of non-essential items and resources for the event by taking assistance from the experts. For events in Singapore, many corporates perceive our event management team as experts. At MTM events, we have all the required knowledge and experience to deliver the best event management solutions to all our clients, thereby strengthening our recognition as the A-grade Event Agency  Singapore.