Why Hire a Corporate Event Planner? Things they handle on your Behalf
December 20, 2019
|
by MTM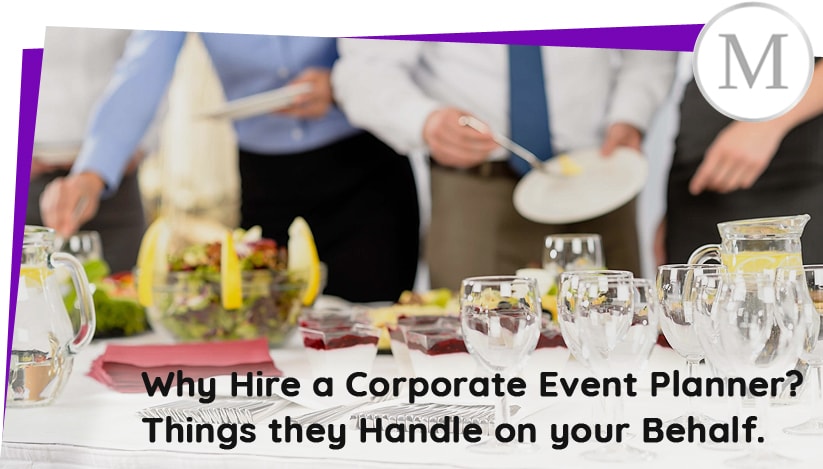 You'd be forgiven to think that managing a whole corporate event to perfection is a near-impossible task. Not only have you never handled such an ordeal before, but you also have other priorities to address as well.
So why not receive assistance from someone who has expertise in the particular field? A professional Corporate event planner can lift the burden off your shoulders and make sure that your next corporate event ends up being a classy affair. A few reasons as to why you should hire a Corporate event planner are listed below.
1. Handling out invitations: One of the more boring but an essential part of being a party host is sending out those hundreds of invitations. A Corporate gathering is nothing without the presence of the concerned authorities. You can, however, have the event planner send out those attractive-looking emails to all the guests on the list.
Not just that, but any promotional tactics that boost your brand awareness can be carried in a professional manner on your behalf.
2. They offer connections: It goes without saying that an experienced party planner would have made useful connections over the years. A corporate party planner has a network of vendors, venue hosts, DJs, and other service providers.
This way, you no longer have to scourge around the city in search of an individual who may or may not be upto the standards. The planner can simply call upon the right man for the job, saving you countless hours and levels of stress in the process.

3. Budget management: Naturally, this has to be the main luxury of hiring a corporate planner. Considering you have the right person for the job, he/she will easily handle the excel sheets and arrange all the necessities well within your budget.
With years worth of experience, a planner can make difficult decisions on your behalf. He/she will be able to separate "must-haves" with the list of "might-have". Decision making and budget-breakdown is a major part of their operation.

4. Negotiating: Your corporate hierarchy would love if you could manage all the necessary elements while saving them some serious bucks. And since a corporate planner likely has abundant connections, it leaves quite a room for negotiations.
Since they have a positive bond with vendors and venue staff, you can leave the price negotiations to them. They can likely arrange for discounts and other bonus services.
5. Theming: Making sure all the details are covered, the planner will then follow it by sharing his knowledge on the right theme for the corporate event. Depending on your budget and the objective of the event (product launch, success party, award ceremony, etc) the planner will choose the most ideal theme.
Picking a theme isn't just tricky but so is making sure everyone adheres to it. This is exactly where an event expert will make everything stand apart, and set a whole unique vibe to the party.

6. Audience engagement: All good event planners are also good party hosts. You do need a professional emcee inside a corporate setting. That person will introduce all the speakers and performers, while also keep the spirits high by engaging with the audience.
An event expert is charismatic, flexible and able to think on his feet. All these characteristics are very crucial in the face of some unforeseen circumstances.
7. Offer entertainment: Event planning experts not just having a vast network of vendors, buy having organized a number of events before, they can also arrange for the right entertainment.
Following market research and brainstorming sessions, they will be able to invite the ideal performance routine to match the theme and prestige of the event.

Conclusion: At MTM Events, we are a one-stop solution to all your event requirements. As a reputed Event  Company in Singapore, our highly certified team of event planning experts will arrange for every single element within your budget. We make sure that no matter the scale, your next party/event ends up being a smash-hit, memorable affair for all your guests.