7 Impressive Budget Cutting 'Cheat Codes' To Follow At Your Next Office Conventions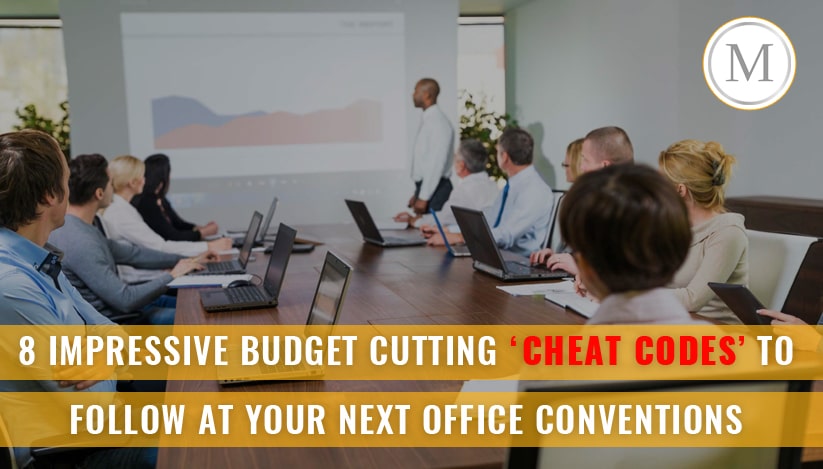 Office conference is an essential part of smooth functioning for any scale of the corporation. But to avoid the whole speech to fall onto deaf ears, it is mandatory that you organize it someplace nice, and uplifting. Then Again, budgeting becomes a whole new issue as a result of an outdoor venue so you need to keep all these individual factors in check.
Hence, as the experts in corporate events Singapore, here we are providing you with 8 amazing budget-cutting methods to follow at your next office conference.
The Perfect venue: An office convention is an important deal, so you can't really go out and have everybody seated inside a tent, at a place in the middle of nowhere. What you can do, however, is choosing a venue that is more close to the main corporate headquarters, is more nature-based in theming and at a place where your target audience is situated.
A simple and light brunch/lunch: At an office convention, it's not the case about stuffing everyone's belly and then moving on to the dessert part for more. The business part of it is the main focus, so no shine and glitters are necessary when offering the cuisines. Simple snacks with low spices and an abundant carb is a rather better solution. If however, you don't want to risk looking hap in front of audiences or investors then perhaps cutting portion sizes are another right solution for you.
Creative yet cheaper decor elements: It'd be better if we instead of garnishing every nook and corner of the building, you rather focus on one single point. Like the main stage where important personnel and guests have to address everyone is a place to spend your party budget on. Further, simple props like electric candlelight, BOGO lighting etc are options that can uplift the looks of the venue without burning a hole in your pocket.
Invite entertainment from within the group: While it'd be fun to have Justin Bieber or someone perform a solo act during your office party, but the financial repercussions can very well throw you out of business as well. So to save on some serious cash, and promote team building at the same time, always encourage your employees to get involved and channel their hidden artist on the stage. It makes for a memorable atmosphere for them and also, well is a cheaper alternative.
Limit the bar trips: If everyone's smashed out during an office event, you are likely to have a problem on your hands. Not to mention the cost it takes to get everyone drunk at such a gathering, it's an overall mess and a recipe for disaster. Always limit the number of drink coupons per person, and also introduce one signature drink/cocktail for everyone. A mojito cocktail with light alcohol content is perhaps what you should look for.
Telecommunicate with the speakers: Speakers are an important part of any corporate convention. They are needed to aid the appeal of the event to the media and also usually keep everyone influenced throughout the session. But with the advancements in technology, no longer have to fly them to your place. An executive ticket isn't cheap, so rather make use of methods like video conferencing for them to address the event-goers and save up on a lot of cash, without damaging any credibility of the convention.
No shame in second hand: Yes you want everything to be top of the shelf quality, but what's the point in having to purchase those fancy furniture and decorations when you aren't likely to reuse them anytime soon? So, don't be shy of sharing the resources that someone else has used earlier, especially if say at a gathering happening just prior to yours. Contact them regarding sharing the items and the budget as well.
Hire professionals for the work: What you can do is perhaps trust professional event planners for the job, like us for example. At MTM Events, we have undertaken hundreds of challenging event planning tasks before and can guarantee you a successful event.All you have to do is discuss your budget and leave the rest to our expert team of an event planner Singapore, who offer all the solutions for services spreading through all categories like –
CORPORATE EXHIBITIONS,
CONFERENCES,
ROADSHOWS,
TEAM BUILDING
GALA DINNERS,
AWARDS CELEBRATIONS
PRODUCT LAUNCHES
THEME DINNER FUNCTIONS
LIVE CONCERTS
PRIVATE FUNCTIONS/PARTIES
WEDDINGS
And so much more…