6 Ways to Choose The Perfect Emcee For Your Next Event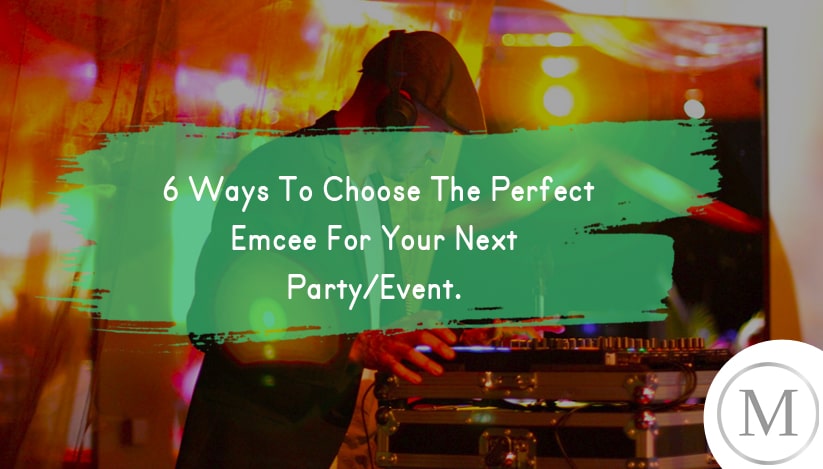 Being an event organizer, for any category (either office or informal) can be a really thankless sort of job. As far as the success of the whole thing is concerned, the onus solely lies on your shoulders. Making sure everything is grand and that too on a budget is a dire situation.
Fortunately, in relation to the party's success, you can always choose for professional assistance from an Emcee (a.k.a. M.C.; a.k.a. Master of Ceremony). But remember, simply just any emcee won't do, the person hired for the job needs to have certain traits about him to ensure he's worth every penny. Being the most reputed event company Singapore, here are a few pro-tips on how to choose the perfect emcee for your next event.
Put him on the spot: It's really not that difficult to dig out the personality out of a human, being charismatic is nothing like being corny or funny. Even in our day to day lives, we can make out a lot about a person's traits as soon as they open their mouth.

Meet your emcee, and put him on the spot, that way you can actually judge if he has the metal to make things work when the situation gets shaky. The best thing about an emcee, after all. is his/her ability to keep everyone pumped up even when things start to go a bit downhill.

The type of party: One way to choose an ideal emcee is to consider the nature of an event. For example, whether your gathering is a corporate event in Singapore, or a wedding, or a night-life event, a charity auction or a concert etc.

So you cannot choose a similar emcee for different types of events. You don't want funny relationships stories at an office convention, and so choose the person accordingly.

The General profile of attendees: Similarly, it really helps if you have the target audience all sorted out before hiring an emcee. The general age group of invitees, their gender ratios, and even education for that matter.

That way, you can generalize the public attending your event and give them the proper entertainment in sync with their definition of what 'having fun' means. The age group of your audience should definitely be checked upon so that the person can introduce and entertain according to their tastes.

Verbal/Public Speaking skills: By MC, you're not being adviced to look for a rapper, but verbal skills do matter. A Master of Ceremony worth his salt is able to interact with the toughest of audiences and has that perfect pace and flow to keep everyone engaged.

A person who's multi-lingual is also a bonus, especially for an international audience with multiple ethnicities. Only a person well-versed can think properly amidst a rebellious crowd and manage to churn out entertaining quotes/jokes out of generic topics.

Budget Discussion: It's always a smart choice to discuss the budget, number of party-goers and a list of "must-haves" with your Emcee. That way, a seasoned professional will let you know about the items to include/exclude in accordance with the money.
The 'best of the bunch' kind of emcee will suggest you the proper DJ, decor items, props, cuisines etc. to fit your budget. This is due to the experience that a good emcee has gained over the years by managing a number of shows/events, and will usually have an expert opinion on every aspect of the party essentials.
Hire a professional: Now it's easier said than done, because how would you know which Emcee is THE Emcee? The safe bet is on hiring someone who has undertaken a huge number of event management projects before and has years worth of experience in the field of party hosting and/or public speaking.
Therefore, as the leaders of our concerned industry, we can help you out in that front.
At MTM Events, we not only provide you with the best Emcee Singapore, but our range of services cover the whole spectrum of Event organizing and management. With our experienced, youthful and highly talented staff, we are able to maintain the perfect track record of event organizing and have never backed down from any challenge our client may present before us. We basically guarantee the best-in-class solutions at highly affordable prices for all types of events that you want us to manage, namely-
CORPORATE EXHIBITIONS,
CONFERENCES,
ROADSHOWS,
TEAM BUILDING
GALA DINNERS,
AWARDS CELEBRATIONS
PRODUCT LAUNCHES
THEME DINNER FUNCTIONS
LIVE CONCERTS
PRIVATE FUNCTIONS/PARTIES
WEDDINGS
And so much more…