8 Ways To Ensure Maximum Attendees for Your Corporate Meetings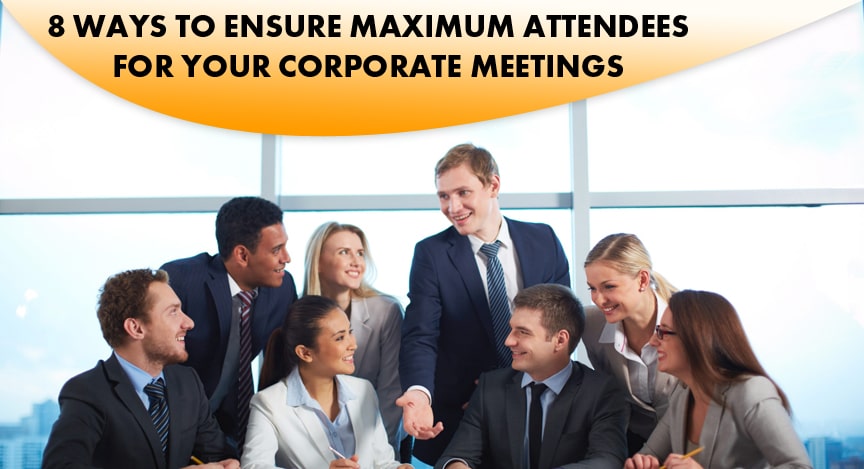 Corporate meetings can sometimes be boring, and by sometimes we mean usually. So with that out of the way, it's no surprise that many office employees start to have second thoughts regarding their life choices when hearing about the corporate meeting that is to be held in an hour. For instance, for a Corporate Meeting in Singapore, hiring a professional Corporate event planner in Singapore shall come in handy. In addition to that, below mentioned are some of the best ways (8 to be exact) to ensure maximum attendees to your corporate meetings.
The Right Time: Never throw a meeting willy-nilly. The time has to be just right. So for instance, it's never a good idea to arrange a meeting during weekends or on a holiday. That is just a recipe for disaster of epic proportions. Also, consider your specific group.
The Right Place: Choose a location that is easy for your guests to get to. If the majority of your target audience is located in the Northeast, choose a location with lots of flights to and from that region. Also, make sure that travel between the venue and the hotels are simple and convenient. Daunting board room and/or conference halls usually have that fun-sucking vibe about them
Sell the importance with your invitations: The process of inviting should be simple yet effective. Always mention the end goal that the meeting is supposed to achieve. In addition, making RSVP seamless through an integrated calendar event helps ensure that attendees are constantly updated with the reminders.
Be clear regarding the meeting value and basis: Be clever and concise regarding the main values the event will offer. Attendees should know if the meeting is for a charitable cause, or if the semi-annual growth curve seems to have taken a hike/dive. Make sure the goals are in sync with the interests of your audience and then highlight the same throughout the meeting during regular intervals.
Take a break: One thing to always consider while giving your presentation is to look at everyone's faces, and remember they are human after all. There's only so much attention a human can devote over a trifle that is business related.
So just take a break, offer some refreshments, maybe a few fun activities, energize your batteries and then go again.
Show your appreciation: Always take care of the team, the team that includes your employees, your colleagues, perhaps your clients and other business associates. Snacks and meals are imperial parts of a productive business meeting and offering certain individuals with a few words of appreciation only go to show that their hard work is getting recognized.
The perfect ending: Of course you are not obliged to end every business meeting with confetti and fireworks while champagne bottles get blasted open. What you can do is offer some nice little gifts to your subordinates. Simple things like a chocolate box, maybe a mug or similar items serve the purpose just right.
Don't have a meeting in the first place: Ok so it's not what it looks like. What this means is that modern technologies have brought a number of facilities and one of them is the phenomena known as 'Video Conferencing'. Many businesses are inclining towards platforms like Skype, Google Hangouts, etc that don't require the attendee to be physically present at the meeting.
Conclusion: All the aforementioned tips are quite effective towards ensuring maximum attendees for your board/conference meetings.
At MTM Events, we feel proud to be recognized as the leading Event planner in Singapore. Irrespective of your office event, we have you covered regarding all party aspects. We offer you the complete management spectrum of events that include-
CORPORATE EXHIBITIONS,
CONFERENCES,
ROADSHOWS,
TEAM BUILDING
GALA DINNERS,
AWARDS CELEBRATIONS
PRODUCT LAUNCHES
THEME DINNER FUNCTIONS
LIVE CONCERTS
PRIVATE FUNCTIONS/PARTIES