8 Best Team-Building Events Every Corporate Should Arrange For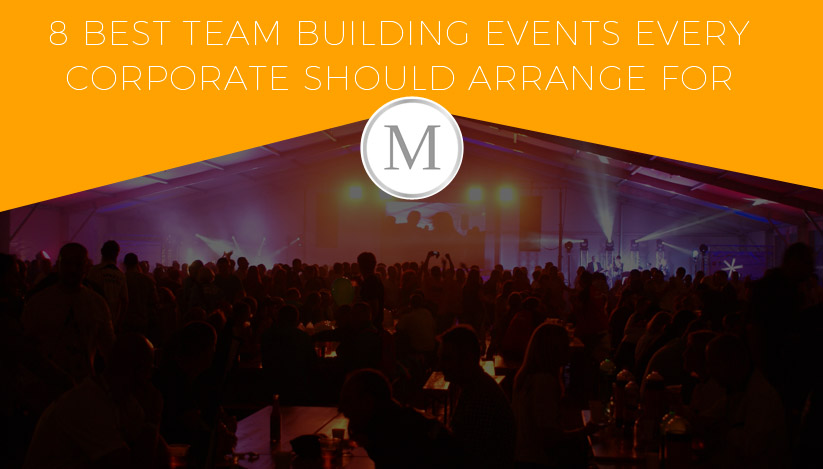 Team-building is a necessary tool in order to maximize the working efficiency of any organization. Hence, as the leading Event Company in Singapore, below we have mentioned a number of team awesome team-building events that every corporate should arrange for in the near future.
Build a Race Car Championship: Let the skills and talent be at the fore with an amazing team building activity. Not only the technical expertise has to be at the peak, but the team-work will also play a crucial role in terms of building and actually going onto win a race with these team-made cars.
Escape Room: On the subject of team-work, nothing brings out the best out of collective minds than trying to escape a dangerous room. A few riddles, brain teasers and hints are scattered all across the room and the only team with the spirit of working as a unit can come out on top here. Again, team building, creativity and on-the-spot strategizing will be the key elements here.
Shoot a Movie: Or even a documentary of sorts. We all have these latest smartphones with powerful cameras and upto-standard editing tools. You can decide personnel into the different team and either assign them a prompt or better yet let them do it all by themselves. Naturally, the team with the most pressing theme, best acting, maximum accumulation of members and an overall better scripting/dialogue will take the cake in this one.
Design a Superhero: We all have had our favorite superhero and an imaginary one as well. Again, split the members into distinct groups and let them draw their own version of the Avengers (or the Justice League). A number of prize categories (such as "The Best Costume Award", "The Most Ridiculous Superhero Name" or "The Weirdest Superpower Award") can be included here.
Community Garden Plantation: How about an event based on a green theme that also boosts the 'work-in-tandem" capacity of individuals? Take your employees to any nearby Community Garden and they'll be more than happy to let you plant a number of nutritious trees or beautiful flowering plants on their behalf. Also working closely for such a lovely cause creates a special bond amongst individuals.
Paint-Ball Shooting Challenge: A dose of thrill and adventure is something most of us crave for from time to time. In that case, Paint-ball shooting is the perfect way to relax some of your stress muscles. Only the team with advance planning, superior tactics, better coordination and collective approach will be the winner here. This is perhaps the most fun activity that is excellent at promoting team-building qualities.
Jigsaw Puzzle: An activity where all the members can feel equally involved. Communication skills, strategizing, brain-solving capacity, mental aptitude, and most of all, team-building is at the forefront of such an event. Simply put on some chill music, and divide the team into further sub-groups in order to make the task a bit more challenging.
Traditional Scavenger Hunt: Sometimes sticking to the basics and going with a tried and tested formula is really the best thing to do. Similar to a treasure hunt, the premise here revolves around using the problem-solving metal as a unit and making use of all the hints and clues at their disposal to solve the mystery. So once again, only the team, irrespective of the technical prowess that individuals possess will come out on top here.
Conclusion: MTM Events is a pre-eminent Event planning/organizing Company in Singapore. Our expert Party Planning Panel (PPP) is more than capable of coming up with the most excellent solutions that make sure your event remains a memorable spectacle for years to come, for all your attendees. Our full scale of expertise includes handling the following event types –
CORPORATE EXHIBITIONS,
CONFERENCES,
ROADSHOWS,
TEAM BUILDING
GALA DINNERS,
AWARDS CELEBRATIONS
PRODUCT LAUNCHES
THEME DINNER FUNCTIONS
LIVE CONCERTS
PRIVATE FUNCTIONS/PARTIES
WEDDINGS
And so much more…