6 Reasons Why Trade-Shows Are the Best Activities for Corporate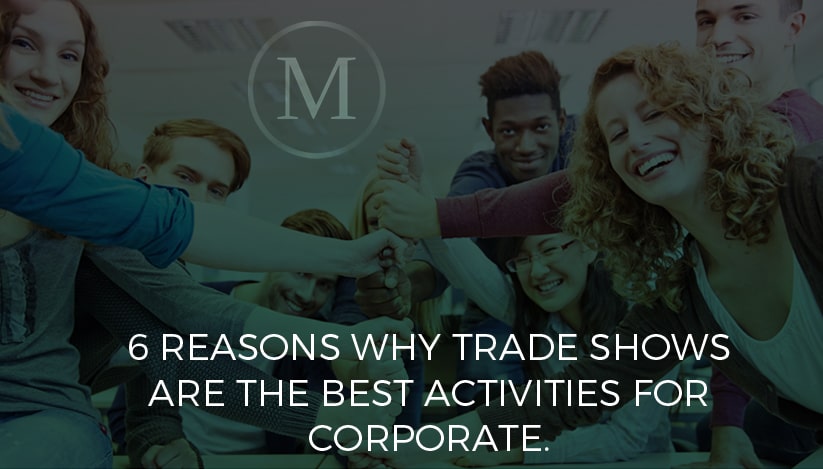 Corporate meetings and conventions are all well and good, but the biggest issue is to ensure that maximum participation does occur during those gatherings. Still, ensuring that every person does attend the business conference is actually paying attention to the proceedings.
A smart bet is to host a corporate-based trade show instead. Now, as the most renowned corporate event planner in Singapore, we are listing the 6 major reasons as to why hosting a trade-show for your corporates can turn out to be a profit-churning idea.
1. Brand Exposure: A smart businessman will never shy away from the opportunity to promote his brand in front of the general public at every given opportunity. Trade-shows are a blessing in those scenarios. You can present a new product infront of newer as well as established customer base, while also making your brand look more relatable following those smart presentation/speeches. Newer audiences can know what you are all about and If carried out properly, these trade shows are sure to attract more eyes towards your products, thereby supplementing brand exposure.
2. Audience Attraction: As an extension to the previous point, at whichever place you wish to host the trade-fest, never miss the opportunity to cater to the local audiences there. So for instance, if the trade-show has to take place at Hawai, then it'd serve you better if the whole theme, setup, apparels, cuisines etc are relatable to the local community there. This way, the maximum public interest is ensured and your brand image will also experience a surefire boost in the eyes of the local masses.
3. Return On Investment: Being a corporate person, the financial implication of any event has to be seen as a major priority. The cost-effectiveness of the whole program is a feature that is difficult to predict. But believe it or not, hosting a trade-show as an overall event will assist your Return On Investment (ROI).
Unlike a hastily thrown office campaign, a trade-show will definitely cater to at least some fraction of your target audience, which is always the main concern. Not a single marketing campaign is a surefire gateway towards bringing you leads, but the best bet always lies with trade-fests.

4. Stay Ahead Of The Competition: Any trade-show can be seen as the perfect testing ground for new product launches, or even appreciation ceremonies. Attending such an event as a corporate member will always keep your organization one step ahead of the competition.
All the new strategies, technologies, methodologies, ideas and processes can be laid out in front of all corporate personnel simultaneously, thereby saving a significant portion of your time and effort.

5. Vast Networking: If you attend the show as an employee, then at the very least you get a chance to meet your colleagues and share your expertise and experiences. This is a crucial step towards building team-work and promoting networking with each other.

6. An Overall fun-time: Ask any of your employees and chances are they personally would significantly incline towards attending an outdoor trade-show rather than a board room meeting. Employees get to meet and greet, directors and board members can collectively make fruitful decisions and the overall vibe is much more laid-back and enjoyable.
Conclusion: MTM Events is the most renowned Event company in Singapore and we make sure to make every party/event worth a lifetime of memories. We handle every aspect of party organizing and do in the most cost-effective ways. Our services include –
CORPORATE EXHIBITIONS,
CONFERENCES,
ROADSHOWS,
TEAM BUILDING
GALA DINNERS,
AWARDS CELEBRATIONS
PRODUCT LAUNCHES
THEME DINNER FUNCTIONS
LIVE CONCERTS
PRIVATE FUNCTIONS/PARTIES
WEDDINGS
And so much more…