5 Office Party Ideas to keep it Wacky and Awesome!
September 9, 2019
|
by MTM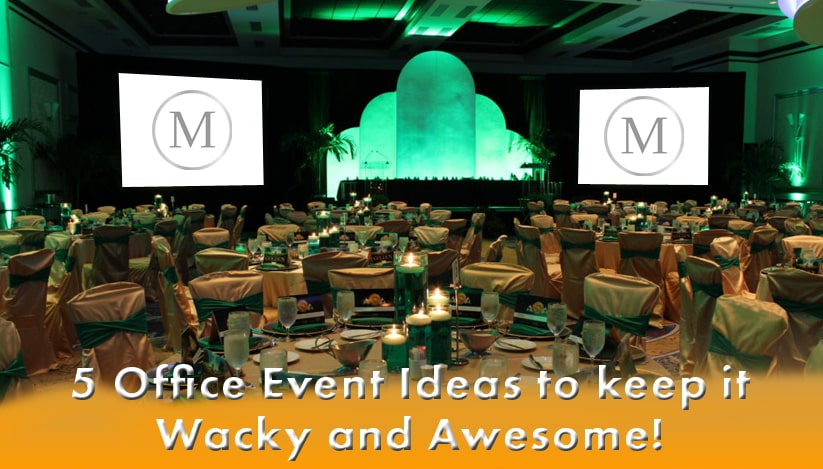 If you have been tasked with arranging and managing the upcoming office party, you surely must be feeling the heat. Not only should you ensure that maximum attendance takes place, but also during the actual party, everyone has the time of their lives. Not to mention the fact that you don't have an unlimited budget to arrange everything either. But not to worry, as the experts in corporate events planner Singapore, here we are offering you a few awesome party ideas that will give your office colleagues a reason to not just attend the show but have a blast as well.
5 Office Party Ideas
Make your own cocktail: An office party will most likely involve liquor in it. So instead of arranging a conventional bar setting, how about you let your attendees enjoy the beverages that they have conceived. An enjoyable activity for everyone involved.Simply hire a few mixologists and host a cocktail making the competition. The mixologists can teach your guests about the chemistry and mixing side of things, and then the best cocktail maker can win a prize.

Neon Glow Party: Your night event could surely use some sparks and wacky glowing-scheme. An attractive glow in the dark theme makes everything turn into a party-prepared prop. All the guests will automatically feel the inner urge to groove.You must run riot with your neon light settings along with the usual props (such as disco balls, lazer beams etc) to run the adrenaline up by a few notches. The rest is the work of an epic DJ and you have a rocking party on your hands.

Superhero-themed party: A trip down memory lane every once in a while is what we all love to do. Watching superhero comics/shows is something that is a mutual part of everyone's childhood. An office party should focus far less on the "office" section of it, so a superhero-themed party is a surefire way to sell the appeal of the event to your employees.With so many superheroes to choose from, the whole event is sure to create a memorable atmosphere for everyone involved, and they will cherish them for a long time to come.

Bowling night: A vintage bowling night with friends is something that most of us always plan or, but our hectic work schedule doesn't afford us the time to do so. So how about arranging that for your employees yourself?Bowling is a simple, fun and challenging activity that makes room for some harmless competition, which everyone can be a part of. Arranging a bowling night is also very simple and cost-effective (hence a win-win situation). You can further the interest value by offering a captivating prize for the winner.

The Evergreen-paintball: Just because you have a tried and tested idea for your party doesn't mean that the fun quota would be compromised in any way. Paintball championship simply never fails to get the adrenaline going, while at the same time further promoting values of team-work, leadership, team-coordination, bonding, etc.Have all your employees split up into different teams and have them battle against each other (possibly to achieve an attractive prize/cash bonus in the end). Paintballing is one of those rare activities that a healthy majority of your employee base will get on-board with.
Conclusion: MTM Events are at the forefront of event company in Singapore, as we come up with highly enchanting event planning ideas that will make your next event a surefire success. Simply relate to us the event type, and leave the rest to us. We tackle the hassle of party planning off your shoulders whilst proferring the best solutions at highly affordable prices.