5 Biggest Event Planning Mistakes and How to Avoid them
September 17, 2019
|
by MTM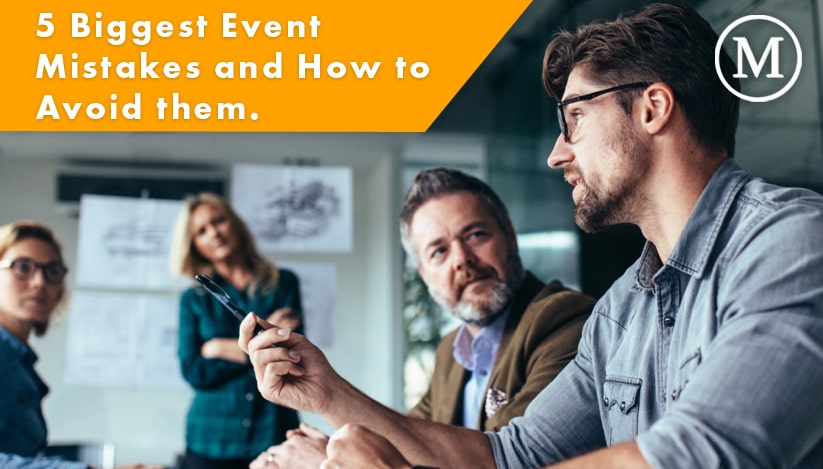 If you are planning an event, the last thing you want is to follow the forbidden path that many fellow planners unknowingly pursue. As humans, we all make mistakes but when it comes to organizing say an office event, the margin for error certainly reduces, especially in the eyes of your boss.
With that said, what are the biggest mistakes that you might commit and what are the possible solutions to avoiding them? As an expert event planning company, let's take a look –
1. Undermining the value of event promotion: The statement holds even more weight when you're talking about a corporate event. For a company, the prime goal should always be increased branding at the end of any campaign. In order to generate the maximum buzz, the maximum number of people possible need to know about your event, and that is only possible when advertisement campaigns and promotional techniques are employed.
Solution: Start promoting your ahead of schedule (preferrable 2-3 weeks prior to the event). Spread the word out amongst the local community, and make use of all social media platforms at your disposal (likes of FB, Twitter, Instagram, LinkedIn, etc.). Even physical promotional methods like newspapers, magazines, journals, pamphlets etc are helpful here.
2. Trying it handle it all on your own: Nobody is perfect. So even if you are tasked with fulfilling every aspect of event planning, the event checklist is so bulky that no professionals can carry the whole burden on their own. No matter how talented of an event planner you are, if your sole mission is to save all the credit of throwing an awesome event for yourself, chances are your plan could backfire.
Solution: never shy away from accepting a helping hand. You must select a planning committee to help you make decisions. After all, more ideas lead to more options and thus better decision-making.
3. Not Expecting the unexpected: Very seldom does everything go according to plan, especially during an event/party. Last-minute additions and changes can present you with challenging situations and if you come unprepared, the event can very quickly turn into a catastrophe.
Solution: While it's not possible to anticipate a potential problem ahead of time, a thorough assessment of the whole event check-list can still be conducted by you. Calculate risk factors associated with all activities, and plan risk mitigation techniques accordingly.
4. Miscalculating the magnitude of the event: It's a widely accepted fact that you expect around 10% more attendees than the actual number of guests you invite to the event and then prepare accordingly. You can never be over-cautious when preparing for a corporate events Singapore, so make sure that the venue you choose must hold everyone comfortably. The resources are abundant (like food, light props, beverages, and even napkins, etc).
Solution: Calculate the size of your venue in relation to the number of attendees you expect (plus an extra 10% more). Allocate all the resources available to you in order to ensure that everything is arranged within the budget.
5. Inclusion of wrong speakers or at wrong times: For a corporate gathering, inviting speakers to address the audience is a crucial point to address. However, simply inviting and having them speak during random intervals is something that your audience will never find engaging. Also, if you invite a business tycoon/celebrity to address the audience right off the bat then the interest of your audience will continue to dwindle as the event goes on.
Solution: if possible, try to put the celebrity speaker at the last spot. Laos, the addressing part should never follow an entertainment routine (such as a magical or standup act), instead arrange for these acts to be had after the speaking session has concluded.
Conclusion: MTMEvents is the leading Event Company in Singapore and we offer all our clients with more than just the perfect party solutions, instead offering them long-lasting memories. Our unmatched expertise in the industry bestows us the required skills to make your next event a surefire hit amongst all your guests.