10 Ways to throw an Awesome Party on a Budget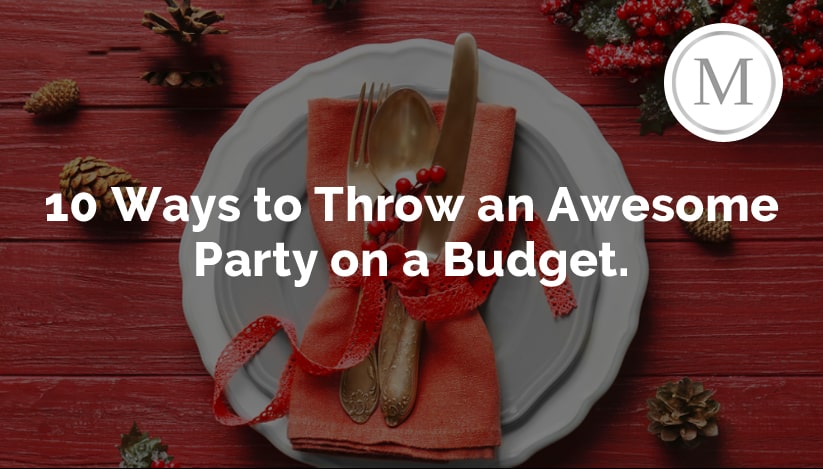 Wanting to throw an awesome party is the easy part of the puzzle, the difficult thing is to throw a party that everyone enjoys, without it resulting in you depending on cup noodles for your survival for the rest of the month. So say you want to throw a party in Singapore, then you might want to hire an Event Organisers in Singapore to assist you with budget management.
So then, what are the 10 best ways to throw an awesome party without going broke? Let's dive into it-
1. Economical Invitation methods: With everyone within touching distance of their phones these days, you simply don't have to print out those fashionable pamphlets and invitation cards. They get lost into another dimension once it's all done anyway.
Just write an Email to individuals or make a group on social media platforms and include all the invitees.
2. Cut out the unnecessary add ons: Seems so straightforward on the surface, this tip. But really give it a thought for a second. Will anyone really think it was disastrous for you to include only 2 varieties of noodles instead of 17?
It's not that hard to eliminate the add ons because no one is likely to notice the most of it in the first case. Specify to everyone what you will provide beforehand, and you won't leave a room for disappointment at the time of the party.
3. Limit the menu: "The more the merrier", right? Well, that's not always the case. Instead of dishing out an all-you-can-eat buffet, you can well, choose not to do it. When you think about it, the partygoers are going to scale your party on how much fun they had, rather than all the food they got to eat, even when they were already full. Sure, validate that enough is presented on everyone's plate, you just don't have to overdo on fancy items that's all.
4. Introduce creative and fun games:  What better way to throw a rocking party on a budget than having your audience engage together in a fun activity? Simple yet fun recreation means like bowling, photo booth, ramp walking and things like that make the party a spectacle, while also engaging your partiers with new people to talk with
5. Offer a signature drink: Too much booze is one of the biggest contributors towards a party budget shooting out of hand. You can rather opt to provide a particular drink for your partiers, that they can have with coupons that you provide limited numbers of.
If a guest offers to bring along a drink of their choice, welcome the proposal and your pockets will not suffer a hit as a result of this tip.
6. Budget equipment alternatives: This is where a professional party planner will do you a world of good. They know what lights to choose that cost less, they provide with quality music systems so that you don't have to hire a costly DJ, and a planner also knows if there lies a cheaper yet efficient equipment for a costly product you had in mind, all that without compromising with the " This party rocks, man!" aspect.
7. Choose a smart theme: This tip is like a life hack, a cheat code in party throwing exam. You can choose a suitable theme that not only is cost-effective but also makes for quite a visual.
Instead of costly neon lights with lasers and thinks alike, you simply can declare a candlelight theme or something similar. This technique especially suits for formal office parties, and when you invite your friends and relatives to a venue. Even a Halloween based theme will serve you good here.
8. Choose the right time: Now there's no particular season to throw a par….. Well, there kinda is.
So if say you want to throw a New Years party, just choose to do so in the first week of January rather than the final week of December. That way, the cost of the venue would be much lower along with the necessary goods you have to include. You can even save a lot on food budget by hosting the party after dinner time.
9. Be a little mean: This just means that you might have to look like a bad guy for some people in order to be "The Awesome Guy" for 100s' of your attendees. Make a guest list and invite the ones who really have to be there.
You might not like the idea of leaving someone out, but at least that way the people who do attend your party get more out of it. Just focus on the quality you can provide, rather than the quantity.
10. Hire a professional: A professional party planner, by definition, will be aware of all the essentials that are needed for a party to look good. They know the cost-cutting methods and handle the hassle of arranging all the goods (menu, equipment, etc.) on your behalf.
Now excuse us while we take this opportunity to display the services we provide on the matter of party hosting.
We at MTM Events is an Event Agency pride ourselves in proffering the best event planning, event production, entertainment services, and event management in Singapore our customers. We deliver the goods that make your event a smash hit with the audience.