10 Must-Have Decorative Props to Grace Your Office Event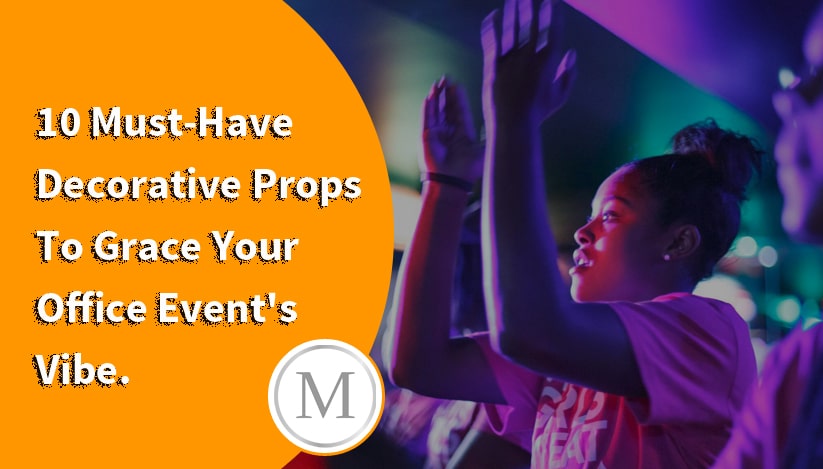 Unlike popular fiction, it's not a foregone conclusion that your office event is a ploy to bore the employees to death and the evil boss seeks revenge room the innocent souls. If anything, office events can be a lot of fun, can often boost team morale and serve as important platforms for higher-ups to meet and conjure up important business decisions and take the company to the next level.
However, the decoration is an often underrated and overlooked segment of the event's appeal and warrants more attention. So, as the most renowned office Event Company in Singapore, we are going to mention 10 highly attractive decorative items that you should definitely include during your next office event, and embroil the outlook of the venue.
Mason Bottles & Jars: With an event running on a budget, this is especially a remedy that works like magic at an event. Simply purchase a number of these Mason Jars for a negligible amount and you' redone with the table decor.
These bottles and jars are very versatile, you can use them as lighting objects, centerpieces, candle holders and in many other forms.
Champagne Popsicles: An office celebration always calls for a nice bottle of champagne, but you can do one better and project your individual touch to a classic tradition. Fill your popsicle well with dry champagne and layer the well with a number of fruits.Cover the top of the popsicle with foil and let it chill for about 4 hours in the freezers. A surefire talking point for all your office colleagues, and for all the right reasons.
3-D Walls and Screens: Technology is the future and the future is now. Show the caliber of your organization with a futuristic setting of 3-D screens and holograms. You can choose to display your brand advertisement or your office team, or even the upper hierarchy through the holograms, whatever it may be, gasps and awe-aspiring faces will be observed for sure.
White Holiday lights: Multi-color, funked-up lights are not the most ideal fits for an office event, so naturally take the opposite route and opt for white holiday lights as the sources of adding glow to your venue. Similar to Christmas lighting, when someone wants that classy kind of vibe, they prefer to just keep it simple. They want that traditional look, that white twinkle-light effect with the white style of lights is usually the safe option to go with.
The Evergreen Flower Vase: Sometimes simplicity is the best answer, and there's nothing more classy and traditional than a fresh flower vase presented on all tables matching with the theme and color of the event venue.Your budget is barely troubled as well, and really the most simplistic solution you can think of for stimulating the atmosphere.
Themed Linen/Cloth: Nothing gives more elegance to a restaurant table or chair than a proper linen fabric. A cloth with colors that are matching with the party theme is always assisting the allure of the surroundings.Wrap your fabric along with banisters and tie them together using a dark-colored ribbon. You can choose carpeted venues with drapes on the windows, to attract the attention of the invitees.
Mylar Balloons: Instead of Latex balloons that are harmful, boring and even banned in some areas, use Mylar 'foil' balloons as decoration props. Balloons are THE party props with full of tradition and nostalgia about them, and the whole atmosphere just seems more fulfilled with their presence. Balloons are cheap, universally adored, and can match seamlessly with any party type or theme. So the real question remains, "WHY NOT?".
LED Chandelier: Chandeliers have always had that "royal" appeal to them, in simple terms, they make everything look that much more shiny, glittering and pompous.With the interference of a bit of technology, install LED lighting to these traditional party props and woo your colleagues with minimal effort. Additionally, they also act as a disco ball when the time to step onto the floor shall arrive.
Ceiling Banners and/or Garlands: Ceiling banners basically serve the purpose of branding, but should be given more thought since the banner image mirrors your company's status.
Garlands, on the other hand, are amazing, if somewhat outlandish props for greeting your important guests at an office event. Save the garland ceremony for the company's higher-ups and people holding a powerful position, and make them feel appreciated and authoritative.
The Party Cake: Don't be fooled by the norm. More than an appetizer, cakes are usually seen more like a piece of decoration these days, and this has led to some really amazing, visually-appealing cake cutting ceremonies.Now, without any specific suggestion, the possibilities with decorating a party cake are actually limitless. Moreover, Cake decorating is a popular hobby these days, so you may easily find an artist who can weave a bit of magic with taste and presentation.
Conclusion: MTM Events is the largest and most reputed Event Organisers in Singapore and we retain the most talented, experienced, and enthusiastic staff of professionals who can handle any party requirements that you may have with the utmost ease.
Simply discuss your budget with us, and leave the rest to us. We offer the best pricing for our services and handle all types of celebratory events including, but not limited to –
CORPORATE EXHIBITIONS,
CONFERENCES,
ROADSHOWS,
TEAM BUILDING
GALA DINNERS,
AWARDS CELEBRATIONS
PRODUCT LAUNCHES
THEME DINNER FUNCTIONS
LIVE CONCERTS
PRIVATE FUNCTIONS/PARTIES
WEDDINGS
And so much more…