10 Event Planning Checklists that will Actually make a Difference
October 24, 2019
|
by MTM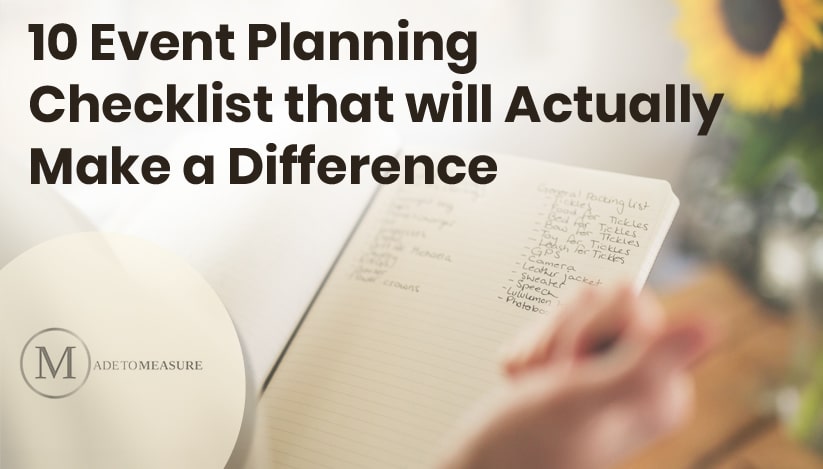 Planning an event for your folks is like trying to opt for a gym membership. Everything seems pretty straight-forward on the surface of it, especially when you look at the sweet end result of all the countless hours of sweat and dedication. But once scheduling conflicts and agony takes place, the job becomes more of a hassle all of a sudden. This isn't to say that event management can't be fun, especially when done right. And to do so, maintaining a checklist is a must.
So what 10 elements of this checklist are the most vital? Let's find out.
Food preferences: It isn't likely that all your attendees will have a mutual liking to each and every cuisine that you present. But at the very least you must ask them through your invitations to include the possible allergies that they may have. Also, a separate, all-vegetarian menu is good to have for the vegetarian portion of your audience.
Budget approximation: This seems rather an obvious thing to do. What we forget however, during our budgeting process is to account for at least 10-15% extra expenses owing to the hidden costs, and other last-minute changes. Things rarely go exactly as planned, so every past event can form a baseline for present budget guesses.
Hall capacity: Just like with budgeting, it's useful if you expect about a 10% increase in the actual guest numbers than intended. Some of your event-comers are going to attend the occasion accompanying their friends or family members, so book a venue that is spacious enough to hold everyone comfortably.
Theme Selection: No party should necessarily have a theme, but a party with a theme should necessarily have everyone adhere to it. So if you are going for that sparky vibe, then choose a suitable theme as per the nature of your party/event. This means that an office party will naturally have a different theme suited to it than say a dinner-and-dance night event. And once done, make sure that the theme essentials are conveyed to everyone well in advance.
Finalizing speakers: For an office event, it's pretty significant that your speakers have been finalized ahead of time. You can research for the most in-demand speakers and then formalist of your ideal candidates. Contact them a week or two in advance and have them address the audience just at the right time, for maximum engagement.
Acquiring sponsors: Every Corporate events Singapore can acquire exposure by attracting sponsors for an event, and in return, the sponsors get the same thing, promotion. And not just for that sole reason, a sponsor might handle a significant chunk of your event budget as well. You can research for firms that have previously sponsored similar events to yours.
Complete digitization of the venue: It's almost the year 2020. Without digitizing your venue, things look rather incomplete, especially at a corporate setup. Basic digital connections such as Wi-Fi, charging slots, etc shall be available at every major seat. Also, make sure to implement hashtags, social media posts, live event sharing, telecommunication, etc.
Event Break-down: You must maintain a spreadsheet containing all the elements of the event, along with the time scale for each of that entity. The time-breakdown holds a different meaning altogether to the planner. It's imperative that every action (such as when to offer snacks and when to start the stand-up routine) be carried out at the right time, to ensure a smooth show.
Name Badging: You need name tags while addressing your event planning team, and maybe even when welcoming your event guests. Badging will assist proper networking amongst personnel. So make sure that all the vendors, decorators, caterers etc have their name tags to avoid confusion. You can also encourage your attendees to acquire name badges of their own if they wish to.
An emergency toolkit: The reality is we never prepare for the unexpected, especially during a positive phase such as enjoying a party. But a generic item such as a pair o scissors or tape can come in handy in the event of an emergency. Your party planning checklist should always include items such as Scissors, pens/pencils, first aid box, notepads, etc.)
Conclusion: MTM Events is the premium place to find your Perfect Party Planner. As a highly renowned event planner Singapore, we have the required experience and expertise to ensure that your next major occasion ends up a memorable affair. Simply covey your budget to us, and our professional team of event organizing experts will handle the rest for you.